Automated data
collection, made easy
Collect and use public data from the internet at scale without a single line of code.
Setup without coding
Install the Obsrv.app Chrome extension to select data points on a website. Select single or multiple similar data points with a click of a button. Setup pagination and cookie forwarding.
Get in touch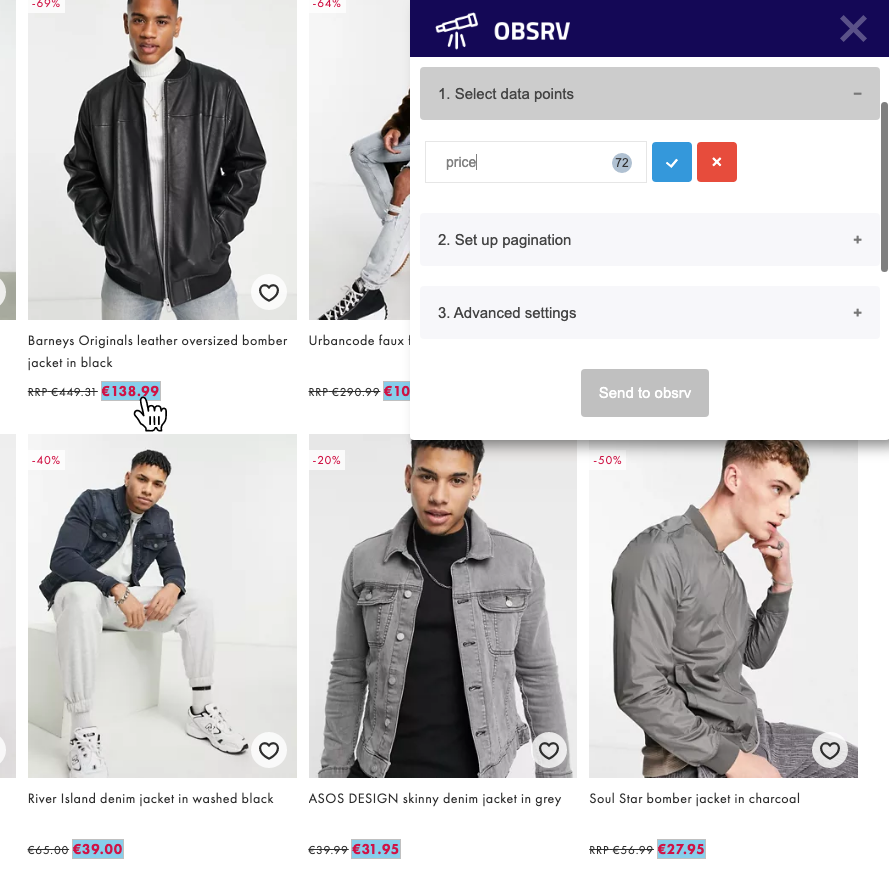 Scheduling, geolocation
Once you've selected the data you want to collect, you can setup how frequently do you want obsrv app to update it. Does the content change depending on the location you're visiting the site from? We've got you covered. Select the geolocation you wish for.
Get in touch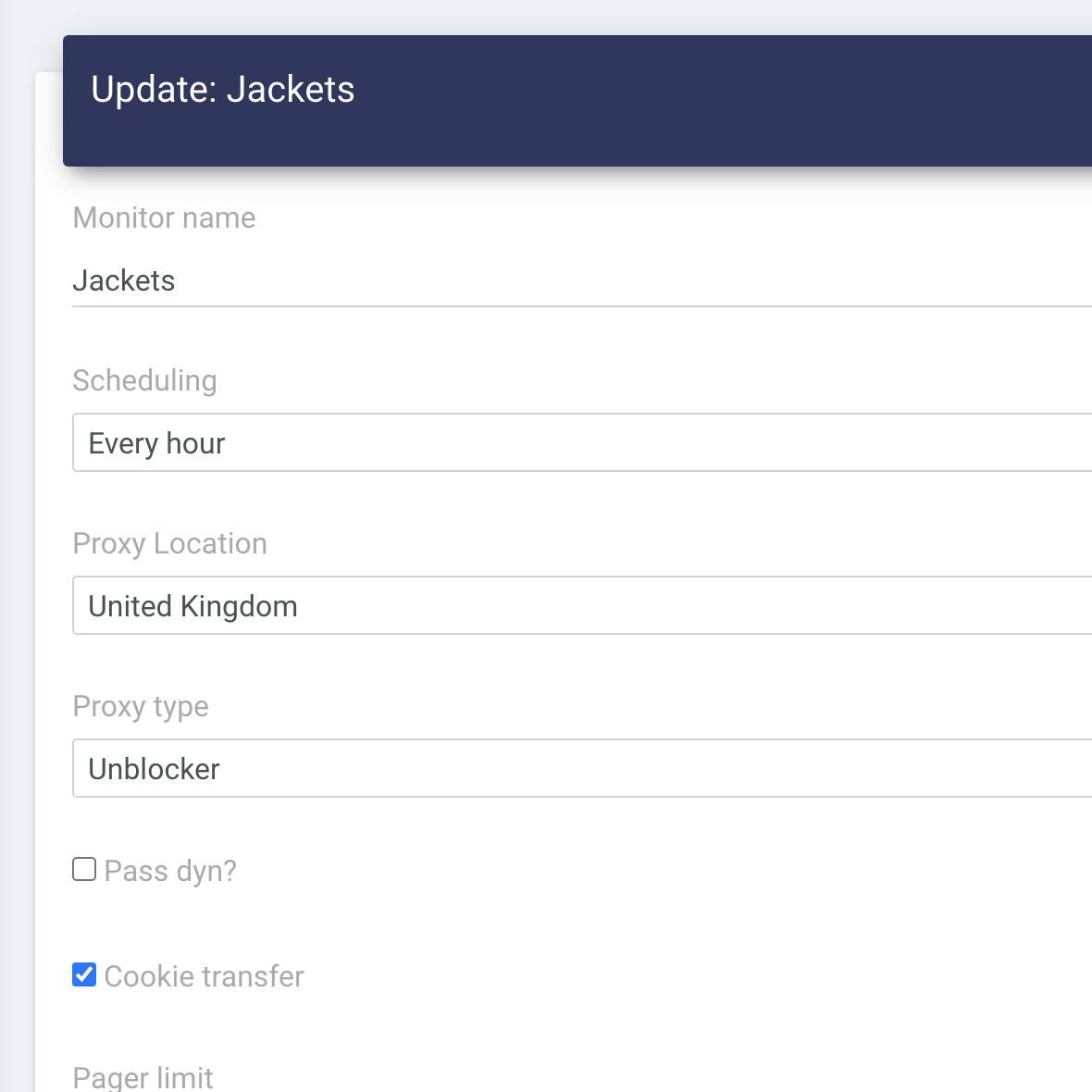 Pipe in your collected data
What's the output format you're looking for? Pick the one that suits you best and use the data in your no-code app or use it as you wish.
Get in touch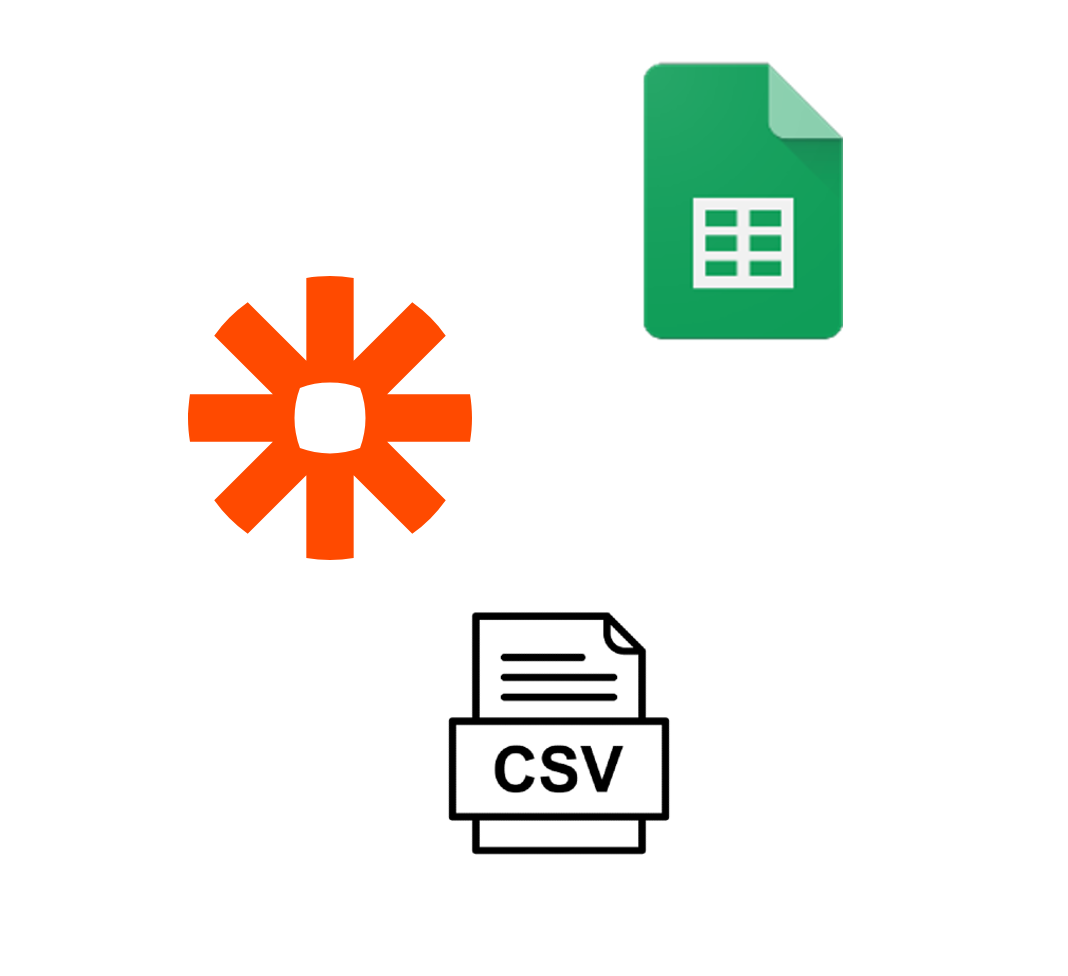 What makes Obsrv.app great?
IP Rotation
We use a premium proxy network and IP rotation to stay under the radar.
Scheduling
You can set up the frequency you'd like to run the data collection.
Javascript processing
We render and process sites using Javascript. Lazy loading can't be a problem anymore.
Pagination support
Data on multiple pages? Set up the pagination in your monitor and we take care of the rest.
Notifications
Enable notifications to get an alert when some data point changes.
Output formats
Select your desired output format. Are you missing a format? Let us know!
Price monitoring

Never miss out on your competitors price changes. Set up a notification via email or an API hook to receive an instant alert when a data point changes. Follow as many competitors and SKUs' as you'd like.

Collect Machine Learning dataset

Scrape data for your machine learning model. Data collection in itself can be a separate project while building an ML pipeline. Streamline your data collection needs with Obsrv.

Aggregate website data

Use obsrv.app to aggregate content from different websites.

Competitor watch

It's not always about price. Understand your competitors better by following their public contents.
Starter
1000 page loads
Scheduling
Email support
Get started
Pro
10.000 page loads
Scheduling
Premium proxies
Notifications
Email support
Get started
Enterprise
100.000 page loads
Scheduling
Premium proxies
Notification
Email support
Get started
Frequently Asked Questions
How can I try out the service?

Please contact us via email at hello@obsrv.app.

Do you offer concierge services?

Yes we do! Contact us to discuss your data needs.

Does obsrv.app work with every website?

Obsrv.app works with most of the websites. However, there are anti-scraping technologies that can prevent it from collecting data. In these cases we'll let you know about the issue and the possible solutions.